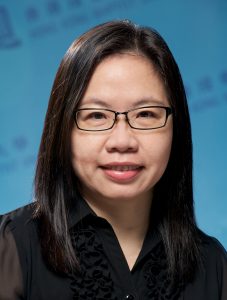 BSocSc, MSW (HKU);MA, PhD (Minnesota-Twin Cities); RSWHK
Academic & Professional Experience
| | |
| --- | --- |
| 2022 –  | Visiting Professor, Department of Education Studies, Hong Kong Baptist University |
| 2005 – 2022 | Professor, Department of Education Studies, Hong Kong Baptist University |
| | |
| --- | --- |
| 2011 – 2022 | Associate Head, Department of Education Studies, Hong Kong Baptist University |
| | |
| --- | --- |
| 1999 – 2010 | Master of Education Programme Coordinator, Department of Education Studies, Hong Kong Baptist University |
Research Interests
Parenting and child development
Homework involvement
Adolescent development
Gender issues
Qualitative research methodology
Learning communities
Consultancy/Professional/Community Services
School Manager, Hong Kong Baptist University Kindergarten, from 2019
External Examiner, Bachelor of Education (Honours) (Primary) – General Studies (Five-year Full-time), Education University of Hong Kong, 2019 – 2023
External Examiner, United International College, Hong Kong Baptist University, 2013-2021
Associate Editor, Journal of Family & Economic Issues (Springer), 2014-2022
Editor, Cogent Education (Taylor & Francis), 2017-2022
Consultant, No-homework Self-Directed Learning Project, Hong Kong Christian Service, 2017-2022
External Programme Assessor, Master of Education Suite of Programmes, Open University of Hong Kong, 2020
Member, High-level Advisory Panel (Early Childhood Education) of Chief Executive's Award for Teaching Excellence, Education Bureau, 2012 & 2018
External Programme Assessor, Social Science Programmes, School of Arts and Social Science, Open University of Hong Kong, 2014
Member, Programme Validation Panels, Hong Kong Council for Accreditation of Academic and Vocational Qualifications, 2011 & 2012
Selected Journal/Book Publications
Tam, V. C., Chu, P., & Tsang, V. (2023). Engaging in self-directed leisure activities during a homework-free holiday: Impacts on primary school children in Hong Kong. Journal of Global Education and Research, 7(1), 64-80. https://www.doi.org/10.5038/2577-509X.7.1.1193
Cao, G., & Tam, V. C. (2021). Patterns of adolescent-parent conflicts over schoolwork in Chinese families. Journal of Family Studies, 1-27. https://doi.org/10.1080/13229400.2021.1927801
Cao, G., & Tam, V. C. (2021). A study on the process of adolescent-parent schoolwork conflicts. Youth Studies, 438, 82-93. (In Chinese)
Cao, G., & Tam, V. C. (2021). Using an interactional perspective to examine patterns of conflict resolution among Chinese adolescents and parents involved in schoolwork conflicts. International Journal of Chinese Education, 10(1), 1-22. https://doi.org/10.1177/22125868211005859
Sivan, A., Tam, V. C., & Siu, G. (2020). Adolescents' self-exploration in leisure experience. Leisure/Loisir, 44(4), 441-468. https://doi.org/10.1080/14927713.2020.1815561
Lui, M., Lau, G. K., Tam, V. C., Chiu, H. M., Li, S. S., & Sin, K. F. (2020). Parents' impact on children's school performance: Marital satisfaction, parental involvement, and mental health. Journal of Child & Family Studies, 29, 1548-1560.  https://doi.org/10.1007/s10826-019-01655-7
Sivan, A., Tam, V. C., Siu, G., & Stebbins, R. (2019). Adolescents' choice and pursuit of their most important and interesting leisure activities. Leisure Studies, 38(1), 98-113. https://doi.org/10.1080/02614367.2018.1539867 
Tam, V. C., Chan, J. W., Li, S. C., & Pow, J. (2018). Developing and managing school human capital for information and communication technology integration: A case study of a school-based e-learning project in Hong Kong. International Journal of Leadership in Education, 21(4), 447-461.  https://doi.org/10.1080/13603124.2017.1318958
Sivan, A., Tam, V. C., Tam, E., Ho, M., Kwan, Y. W., Louie, L. Ng, J.. Ng. P., Wong, O., & Yeung, S. W. (2016). Building learning community through a transdisciplinary multi-layered approach. Learning Communities Journal, 8(1), 71-97.   http://celt.muohio.edu/lcj/archive.php
Tam, V. C., & Chan, R. M. (2016). What is homework for? Hong Kong primary school teachers' homework conceptions. School Community Journal, 26(1), 25-44.  http://www.adi.org/journal/2016ss/TamChanSpring2016.pdf
Zhang, L. F., Wan, W. W., Luk, C. L., Tam, V. C., & Wu, P. G. (2016). Adolescents' intent attributions for parental behaviors: Development of a measurement. Psychological Reports, 118(3), 1011-38.   https://doi.org/10.1177/0033294116648361
Chan, J. W., Tam, V. C., Li, S. C., & Pow, J. (July 2016). The development of an assignment coding guide for evaluating ICT-usage in Twenty First century primary school in Hong Kong. Journal of the International Society for Teacher Education, 20(1), 54-66.  https://isfte.org/wp-content/uploads/2016/07/JISTE_20_1_2016v2.pdf
Sivan, A., Tam, V. C., Hu, A., Chan, W. K., Leung, A. Y., Chaudhuri, T., Chow, B. C., Hung, S. S., Kim, L. E., Mah, D. N., Shroff, R., & Wong, O. M. (2016). Designing and implementing a two-level community of practice project to develop a teaching portfolio framework. Learning Communities Journal, 8(2), 51-96.  http://celt.muohio.edu/lcj/issue.php?v=8&n=2
Zhang, L. F., Tam, V. C., Wan, W. W., Wu, P. G., & Luk, C. L. (2015). An exploratory study on school children's intent attributions for parental structuring behaviors. Psychological Reports: Relationships & Communications, 116(1), 249-273.  https://doi.org/10.2466/21.PR0.116k17w3
Seiffge-Krenke, I., Persike, M., Chau, C., Hendry, L. B., Kloepp, M., Terzini-Hollar, M., Tam, V., Naranjo, C. R., Herrera, D., Menna, P., Rohail, I., Veisson, M., Hoareau, E., Luwe, M., Loncaric, D., Han, H., & Regusch, L. (2012). Differences in agency? How adolescents from 18 countries perceive and cope with their future. International Journal of Behavioral Development, 36(4), 258-270.  https://doi.org/10.2466/21.PR0.116k17w3
Tam, V. C., & Chan, R. M. (2011). Homework involvement and functions: Perceptions of Hong Kong Chinese primary school students and parents. Educational Studies, 37(5), 569-580. https://doi.org/10.1080/03055698.2010.539788
Lam, R. S., & Tam, V. C. (2011). Correlates of identity statuses among Chinese adolescents in Hong Kong. International Journal of Adolescent Medicine and Health, 23(1), 51-8.
Tam, V. C., & Chan, R. M. (2010). Hong Kong parents' perceptions and experiences of involvement in homework: A family capital and resource management perspective.Journal of Family and Economic Issues, 31, 361-370.   https://doi.org/10.1007/s10834-010-9202-7
Selected Research Reports/Manuals
Tam, V. C., Chu, P., Lam, T. Y., Chiu, K. W., Wong, K W., & Yim, P. K. (2019). A research report on "No Homework over Easter Holiday: A Self-directed Learning Project 2018. Hong Kong Christian Service & Hong Kong Baptist University. (In Chinese)
譚肖芸、蘇秀冠、葉詠怡、周凌峰、及楊少榮(2019)。「中學 – 大學 – 長者學習社群」計劃教師手冊。香港浸會大學。
Sivan, A., Tam, V. C., Chow, T., Yip, A., & Yeung, S. W. (2018). Promoting positive youth development through school-university-elderly learning community: Teacher's manual. Department of Education Studies, Hong Kong Baptist University.
Tam, V. C., Chu, P., Lam, T. Y., & Chiu, K. W. (2017). A research report on "No Homework over Easter Holiday: A Self-directed Learning Project.  Hong Kong Christian Service. (In Chinese)